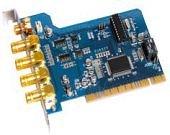 View your CCTV cameras with this DVR PC-Board. Record plus play the video with different speeds without using time lapse VHS recorders also view remotely via network!!!

ALARM WARNING DEVICE SYSTEM INCLUDE AVAILABLE PRODUCTS: FIRELITE, SYSTEM SENSOR, ADEMCO, FBI
NAPCO, GEMINI, GE, ITI, SENTROL, GRI, OPTEX, MORSE
C&K, APEX, MOOSE, CADDX, NETWORX, DSC, NUVICO
SECURITY INTEGRATED COMPUTER SYSTEMS INCLUDE
FAST PC MEMORY, VIDEO MEMORY PLUS CPU SPEED
FOR QUICK RELIABLE PERFORMANCE HANDLING MOST
ALL YOUR HOME OR PROFESSIONAL BUSINESS NEED.
VIDEO SERVER NETWORK INTEGRATED PC-BASED SYSTEMS INCLUDE AMD, INTEL, VIA, ATI, GEFORCE, PRODUCTS AND DRIVERS FOR STABLE OPERATION UP TO 2.4GHz